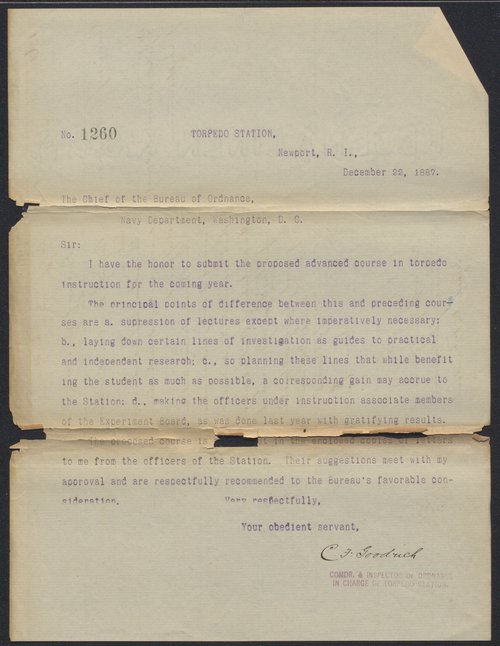 No. 1260
TORPEDO STATION,
Newport, R.I.
December 22, 1887
The Chief of the Bureau of Ordnance,
Navy Department, Washington, D.C.
Sir:
I have the honor to submit the proposed advanced course in torpedo instruction for the coming year.
The principal points of difference between this and preceding courses are a. suppression of lectures except where imperatively necessary: b., laying down certain lines of investigation as guides to practical and independent research: c., so planning these lines that while benefiting the student as much as possible, a corresponding gain may accrue to the Station: d., making the officers under instruction associate members of the Experiment Board, as was done last year with gratifying results.
The proposed course is [missing}ut in the enclosed copies of letters to me from the officers of the Station. Their suggestions meet with my approval and are respectively recommended to the Bureau's favorable consideration.
Very respectfully,
Your obedient servant,
C.F. Goodrich
CMDR. & INSPECTOR OF ORDNANCE
IN CHARGE OF TORPEDO STATION