June 1, 1942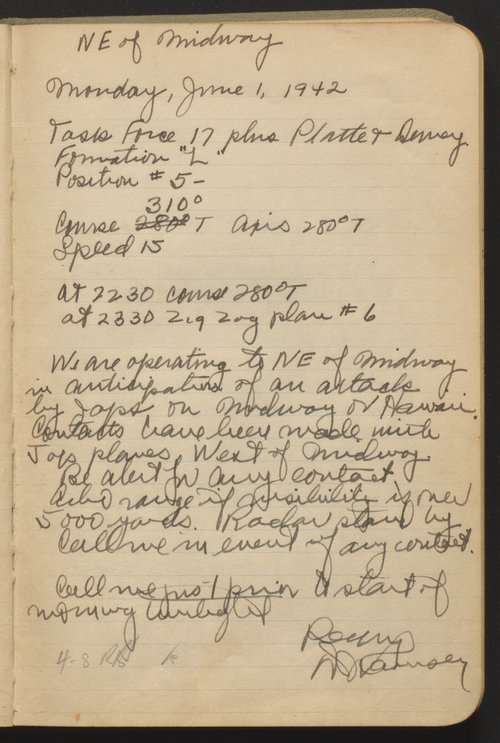 Night Order Book:
NE of Midway
Monday, June 1, 1942
Task Force 17 plus Platte + Dewey
Formation "Z"
Position #5-
Course 280 310°T  Axis 280°T
Speed 15
At 2230 course 280°T
At 2330 Zig Zag plan #6
We are operating to NE of Midway in anticipation of an attack by Japs on Midway or Hawaii. Contacts have been made with Jap planes, West of Midway.
Be alert for any contact
Echo range if visibility is over 5000 yards. Radar stand by
Call me in event of any contact.
Call me just prior to start of morning twilight
Respy
DJ Ramsey
<BR><BR><BR><BR><BR><BR><BR><BR><BR><BR>
---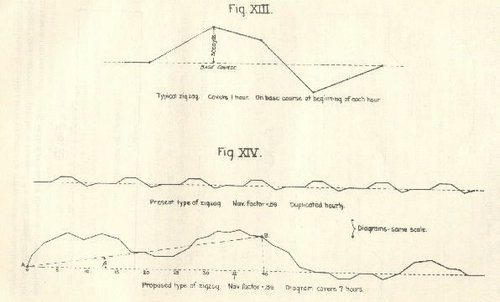 The Hughes neared Midway. Naval Intelligence had discovered that the attack on Midway would happen soon, and forces had been sent to the area. The destroyer and her captain were ever-vigilant and on the lookout for Japanese forces--especially now.
If you've been following Capt. Ramsey's log entries, you may have noticed the mention of "Zig Zag Plans." These set plans would be followed by the Officer of the Deck and helmsmen when maneuvering the ship. "Zig Zag Plan #6," for example, could hypothetically have stated to turn the ship port or starboard by 015 degrees every five minutes. The plan may also have had less dramatic movements, but the goal remained standard--to confuse enemies attempting to target the ship and randomize ship trajectories.
This image from the ONI publication, Analysis of the Advantage of Speed and Changes of Course in Avoiding Attack by Submarine, shows the "typical zigzag" over the course of an hour. Image courtesy of Naval Heritage and History Command.