June 3, 1942
Night Order Book:
NE of Midway
Wednesday, June 3, 1942
Task Force 17, with 16 close by,
Formation "L" - Position #5
Course 210°T Axis 210°T
Speed 13.5
At 0110 Zig Zag plan #7.
Japs are sighted headed toward Midway – so are we! We may contact them in morning, Enemy carriers are not yet locate. Subs are probably looking for us. Keep every man on watch alert.
Lookouts aft particularly alert – Use radar astern if necessary to insure be attacked from that direction.
We must not be attacked first.
Have all hands on stations at station of morning twilight at which time call me -
Respy
DJ Ramsey
<BR><BR><BR><BR><BR><BR><BR><BR><BR>
---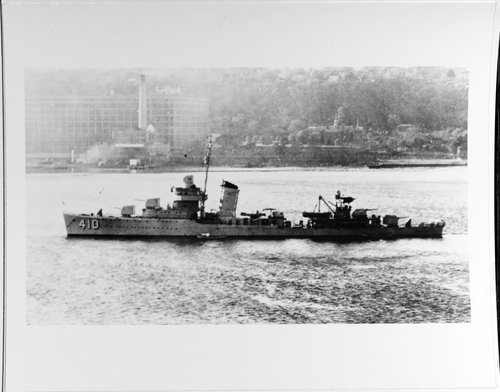 On June 3rd two colossi were about to clash in the middle of the Pacific Ocean. Thanks to Naval Intelligence, the Americans were aware of the Japanese' attack on Midway and had diverted fleet forces to intercept them. The Destroyer we have been following did just that. The Hughes, her Skipper, and the men aboard played a vital role in the protection of Task Forces at Midway.