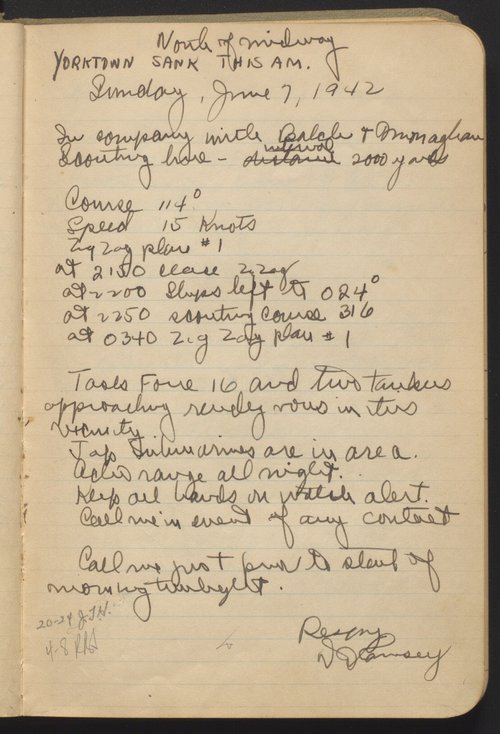 June 7, 1942
Night Order Book:
North of Midway
YORKTOWN SANK THIS AM.
Sunday, June 7, 1942
In company with Balch + Monaghan Scouting here – distance interval 2000 yards
Course 114°
Speed 15 Knots
Zig Zag plan #1
At 2200 ships left to 024°
At 2250 scouting course 316
At 0340 Zig Zag plan #1
Task Force 16 and two tankers approaching rendezvous in this vicinity.
Jap submarines are in area.
Echo range all night.
Keep all hands on watch alert.
Call me in event of any contact.
Call me just prior to start of morning twilight.
Respy,
DJ Ramsey
<BR>
---
<iframe width="800" height="504" src="https://www.youtube.com/embed/CcQ4U5vu1Mw" title="YouTube video player" frameborder="10" allow="accelerometer; autoplay; clipboard-write; encrypted-media; gyroscope; picture-in-picture" allowfullscreen></iframe>
Today marks the 80th anniversary of the final day of the Battle of Midway.
Salvage operations were not continued immediately after the attack by the Japanese submarine I-168 since the destroyers gave chase immediately. For hours they were occupied with hunting the submarine and would not be able to protect USS Vireo if she continued to try and save Yorktown. The fleet tug pulled alongside the carrier and rescued the remaining salvage party who closed all the watertight hatches they could, but the Yorktown was beyond saving. At 0330, the vessel began to list even more dramatically and then at 0501 "she turned over on her portside and sank in about 3,000 fathoms of water with all her battle flags flying" according to a formerly classified Office of Naval Intelligence combat narrative published in 1943.
The Battle of Midway was the turning point of the war for the United States in the Pacific. It stands as one of the most important moments in the history of the Navy. Evident in this social media campaign are the paramount contributions of the Surface Warfare community to portions of Naval history whose retelling generally focuses on Naval Aviation and Intelligence.
Over the next few days the Hughes transits back to U.S. territory and out of harm's way -- at least for the time being.